Couple of these for breakfast!
This is my travellogue to Aberdeen, Scotland at 17/2/2014. English is really bad, but the trip was great 🙂


Check out also my yeasterday's travellogue.



The
clock
woke
me up

a little bit

after seven

,
and

I walked to

the hotel's

downstairs for a breakfast

. I ate a large pile
of

bacon, beans

and sausages.




In addition to this

, of course,

a few




mugs of coffee

and

half a dozen

glasses of

orange juice

.

At nine o'clock

we left

the hotel. Zarah from BrewDog came to
pick us up. I met Zarah at one beerfestival in Finland last year. Ari,
Pierrick and Tommy came to same ride with me and we travelled about 27
kilometers to the BrewDog's brewery.

After arriving to

the brewery we went to the office of James Watt's wait for other
invited guests.
BrewDog's brewery
Ceiling light BrewDog style!


James went to his office quickly and playfully pointed us to be ahead of schedule. When the entire nine-person group was together, we were served a cup of coffee. At the same time James told the plans for the day and went through the history of the brewery. Then arrived BrewDog's other co-founder Martin Dickie, who was the guide for our brewery tour. James was also present most of the time.




Brewery tour guides Martin and James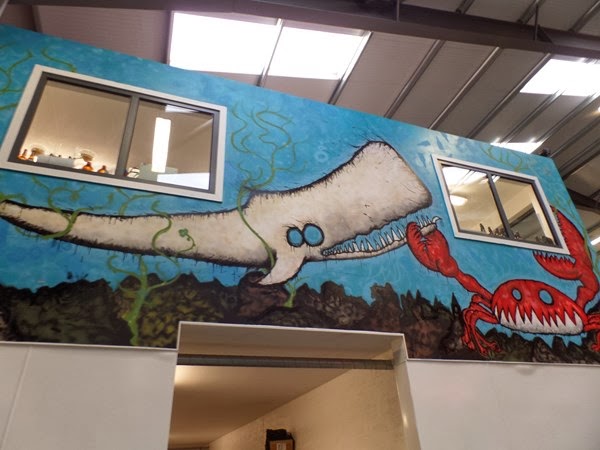 When
we started our brewery
tour they were brewing Hardcore IPA. Martin presented how they make beer at
BrewDog. I also met

BrewDog's Headbrewer

Stewart

Bowman

, who
told me

that he was

specially




dressed

in t-shirt of one Finnish craftbeer brewery
called Ruosniemen Panimo (Panimo = Brewery in Finnish), cause he heard that I was
coming to visit the brewery.

I met Bowman also last year in Finland.
Martin

explained
that one of

the most important investments

in new

brewery

has been
a

laboratory, where

they can do analysis from every step of the

brewing process

. BrewDog is
known for using large amount of hops on their beers.

James




told us that

one-fifth of

each

batch of

beer




will go

to waste, because they use so
much hops. He points out that it's expensive, but the flavor of the beer is the
main thing. Used hops will be sent to five different farms, where the
hops are used for example fertilizer.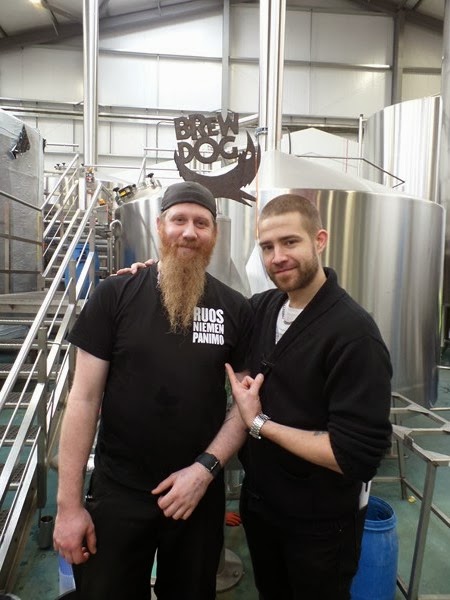 Friendpicture Stewart and Jaska
In the laboratory
An overview of
the brewery
There we climbed!
Guys told us that bottling line moves like 15 000 bottles per hour, when I was watching at my favorite BrewDog beer Hardcore IPA's bottling. I was told that bottling line rejects 1000 bottles from 100 000 bottles. At one point, James asked that those who want to climb on top of the huge tanks, raise their hand. So Tommy, Pierrick and I climbed to top of the brewery with James. Next we went to the loading dock and there was one shipping container. It was a freezer and there was "maturing" beer called Sink the Bismarck (41 % alc. Double IPA). They were freezing water out of that beer. Of course I jumped right a way to the freezer and the temperature was like in Finland. Next stop was a newly built storage. There were huge amounts of BrewDog beers, but there was lot's of beers from other brewers. There was also a huge number of barrels among those beertowers. They were maturing many different beers for example Sort Maelk from Danish brewery called To Øl. There was also many boxes of new beer from the Abstrakt –series. It was AB:15 and James told that we will taste that beer very soon. That was our tour at BrewDog's brewery.
New brewing facilities looked great. New brewing equipments and automatic factory functions. Nowadays this Craftbeer –message comes from uncompromising way of using raw materials. After the tour we went back to the James office, where was time for some beer tasting.
Top of the brewery!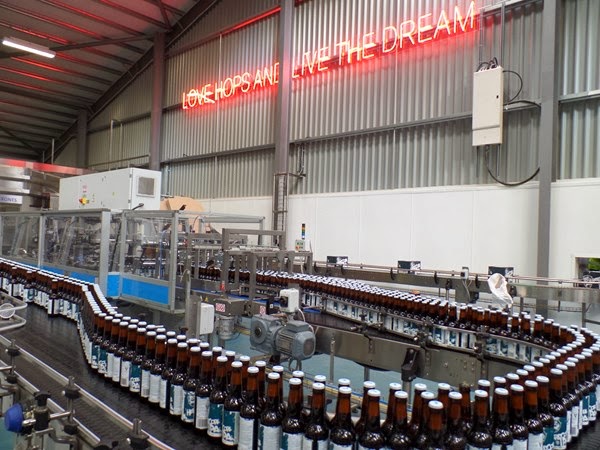 Line of Hardcore IPA's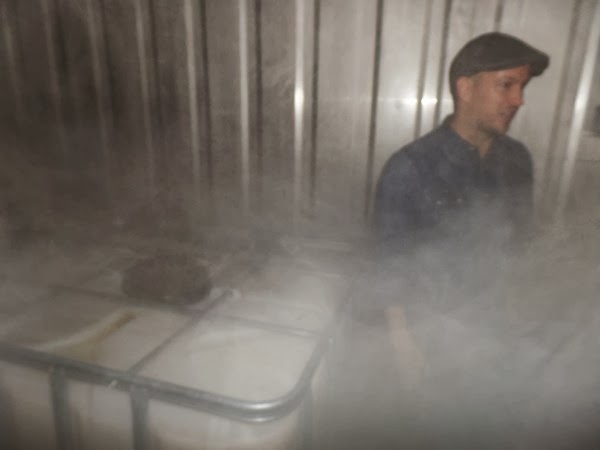 Sink The Bismarck
To Øl Sort Maelk
Beertowers
Punk cans
Mikkeller's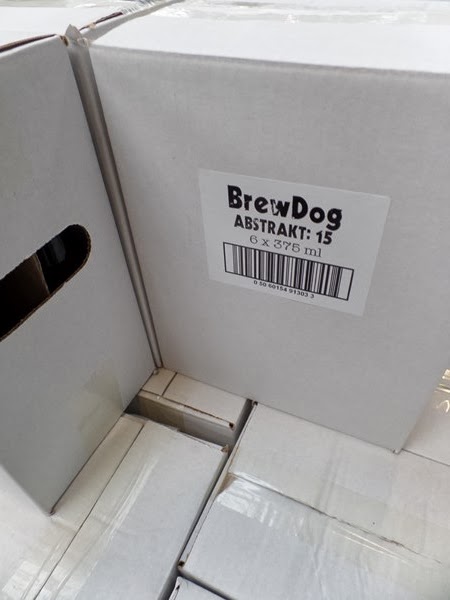 Abstrakt AB:15 in boxes
Today's
first beer
Stewart talking about Punk IPA
First
beer was familiar to me and it was Punk IPA, which was bottled about two days
ago. Very fresh and aromatic. James, Martin and also Stewart was telling stories
about brewery and their beers. Next James brought couple Growlers from maturing
vessel. Growlers were filled with Jack Hammer. This beer was new for me, but
Ari said that Jack Hammer is one of his favorites of the BrewDog.
BrewDog Jack Hammer
BrewDog Jack Hammer

Strongly hopped beer with fruits. Strikes straight to my palate and I became

interested
in
what
it tastes like
totally
ready.
After
Hammer front of us arrives bottle with red label including skull and
typewriter. This beer was called Dead Metaphor and it was brewed collaboration
with two beerbloggers Rob
Derbyshire

and Rich

Taylor

. Label says that it's

Scottish

Chocolate

Breakfast

Stout




and brewed with

the Brazilian




Sertão

coffee and

Venezuelan

black

chocolate.


From the taste came up little bit sweetness.

The

sweetness

seemed familiar

, and I
realized

that it is

lactose

.

So I said to Ari

that

reach
out

to me

my bag

,

which

I threw

in my mouth
a couple of

lactosepills

and thus




tasting

continued.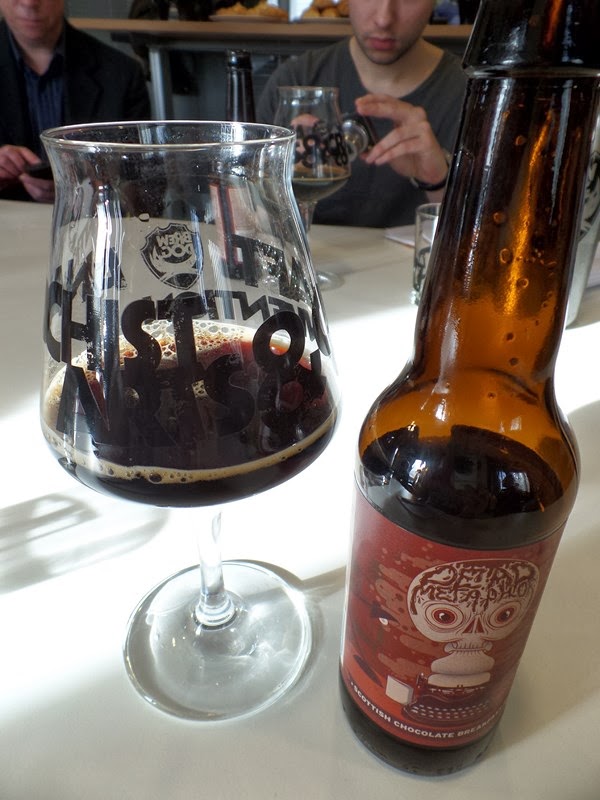 BrewDog Dead Metaphor


BrewDog Dead Metaphor

Coffee
, lactose, and a little
sweet.

I tasted

this a few




days earlier

in Helsinki

, and

I didn't like it very much

.

Again, this




tasting

was no exception

.

It was not my

kind of

beer

.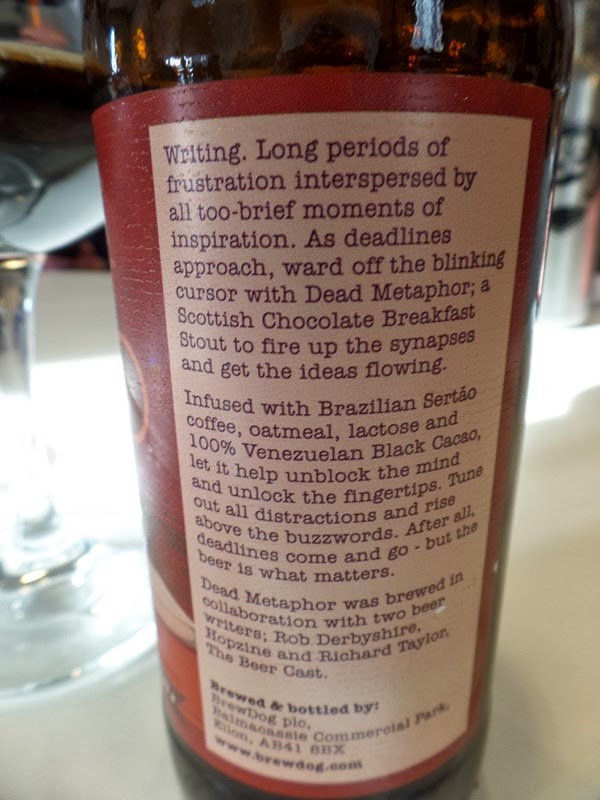 After
Dead
Metaphor




then

it was time to

taste the beer

that I already held in my hands
in

storehouse

and it is Abstrakt




AB

:

15

.

The

specs of the

beer




quite

special

. Used
in the manufacture of the beer

there was used salt and

popcorn.

After this,

it
was "forgotten"

to mature

in

bourbon

and

rum barrels
for

19

months.
BrewDog Abstrakt AB:15


BrewDog Abstrakt AB:15

The
big beer,
with

vanilla,

plenty of




sweetness

and madeira

.

That popcorn,

I did not

pick
up

on this

.

Quite

a diverse

beer

and sort
of

time

awesome

.

Was

this

, however, too
much?

Well,

maybe not

!

BrewDog

"

big"

beers

, however,

worked better

than

the previous night's

Lumberjack

.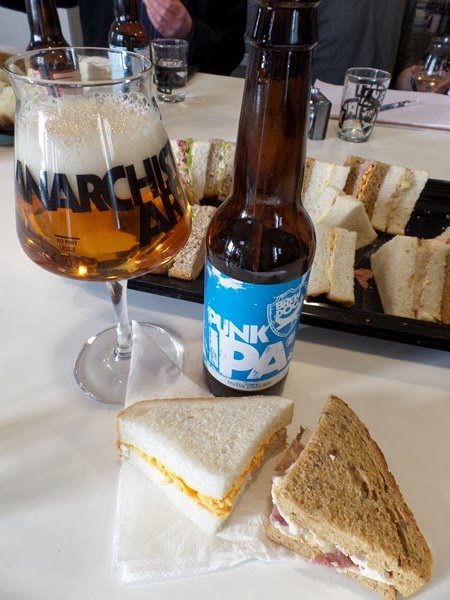 Lunch
After
"popcornbeer" it was lunch time and in front of us was brought couple trays
full of tasty sandwiches. We ate them with Punk IPA. After lunch, I gave my
souvenir beers to James that I carried from Finland. James
took the
bottles
with enthusiasm
and promised to
tell his opinion about those
beers.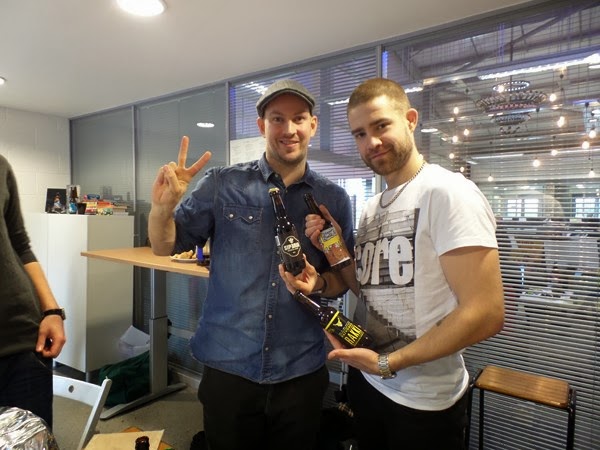 Souvenirs from Finland
Next there was something extra to our original program. We went to visit the old brewery in Fraserburg. Distance was about 40 kilometers. Today, this old brewery is used mainly as the test brewery and they brew smaller special batches. The doors were open and there was quite cool breeze. Exciting to think that there they built-BrewDog brand. Charlotte Cook is the headbrewer of the old brewery and she told us how they make beer there.
The old brewery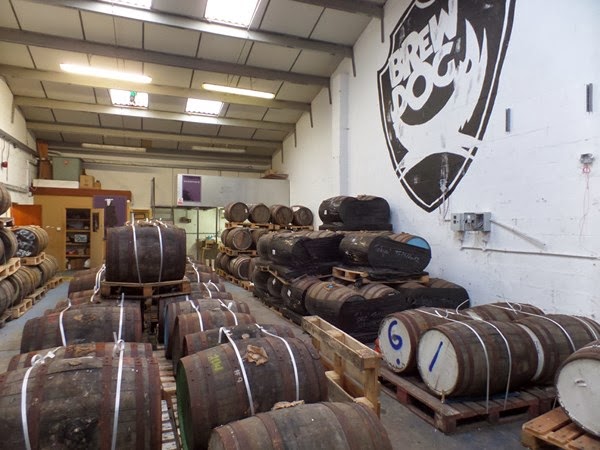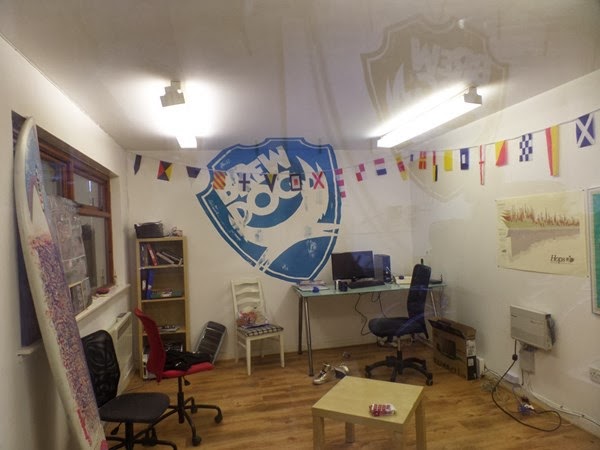 Tokyo*
We
were able
to
taste
two
different beers

. The
first
beer
was from the

blitz

sourbeer –series
and it was…
BrewDog Blitz Passion Fruit


BrewDog Blitz Passion Fruit

Lots
of
passion
fruit

and strong

sourness.




In the past,

I had tasted

Blitz

Apricot

from this
series

and

I liked

it

very much.

I liked this Passion
Fruit also.

As a summer drink this

would
go

perfectly.


The second beer that we tasted was still a little unfinished beer…



BrewDog Jasmine IPA


BrewDog Jasmine IPA

I tasted this beer with Ari and we talked about it. The taste came out really strong and there was plenty of jasmine flowers in it. Aftertaste was very tangy. I did not like it.
After that it was time to go back to the new brewery and the weather began to be more like in Scotland should be. It started raining. When we arrived to new brewery, we went to watch bottling of Jack Hammer and James picked us fresh bottles straight from the bottling line. Jack Hammer tasted very good and I think I can agree with Ari's view that this is one of the brewery's best beers. James also gave us BrewDog t-shirts and then we head back to the hotel. That was our brewery tour and it was time to get ready for the dinner.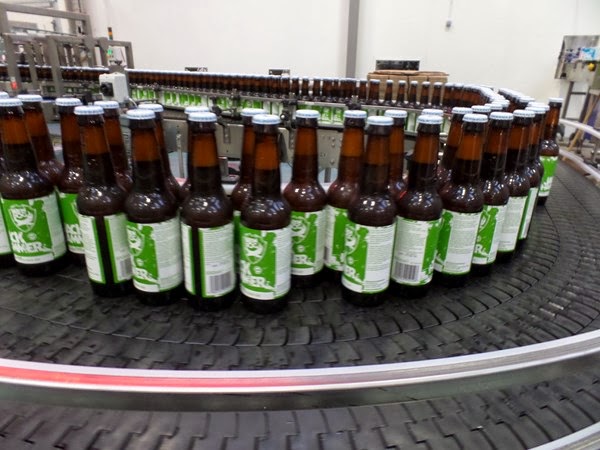 Fresh Jack Hammer on the bottling line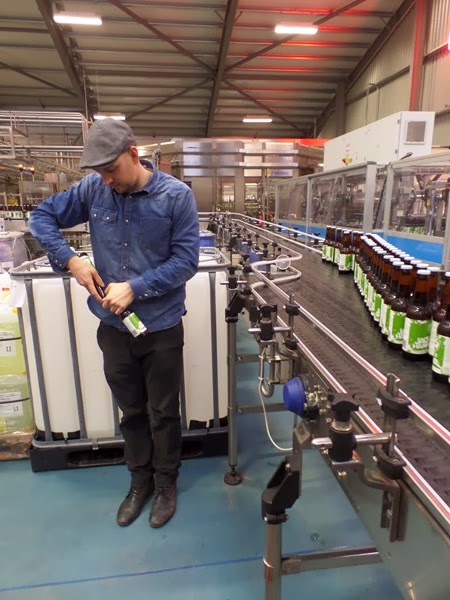 At six o'clock we walked to the BrewDog Bar
to have couple beers before the beerdinner. First beer that I tried was…



BrewDog Libertine Black Ale
BrewDog Libertine Black Ale

7.2
% Black

IPA

. There was toasty coffee and grapefruit/pinewood hopping
was very balanced. I'm big fan of Black IPA's so this was my kind of beer. I
liked it a lot.



After Libertine,

I took a half pint of




Fake Lager

and at the same time James

brought




a tray

full of…
AleSmith Grand Cru


AleSmith Grand Cru


Ripe
fruits, raisins and
not

too sweet

.

A great




beer

.

Alcohol

was

very well

in the background.
MUSA
Then
we went to

dinner at the restaurant

called MUSA

.

This restaurant is

owned by

James

, and

he described

it to his own

hobby

. The
restaurant was

opened

specially




for us

, as

usual

, it was

closed on Mondays

.

The dinner

was

accompanied by

James
and

Martin

, but also other employees
of

BrewDog

for example

Sarah and

Zarah

. We
were welcomed

and

had

an aperitif

…
BrewDog Blitz Rasberry


BrewDog Blitz Rasberry


Light,
fresh
, sour, and lots
of

berries

.

These

beers from the Blitz -series

have been very
good.

I have tasted

three
different, and

the

Apricot




has been my favorite.
After
aperitif,
started the four-course

dinner. Before

each

course

there was
somebody from the brewery,

presenting the food

and

a beverage

.

First




beer & food combo was…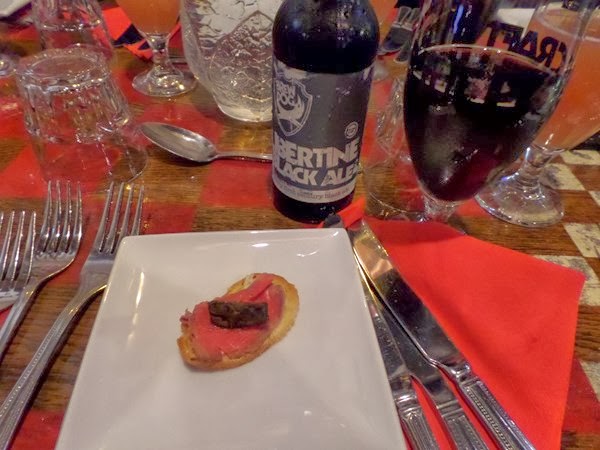 1. serve
1. serve
BrewDog Libertine Black Ale
Smoked Beef Fillet Carpaccio, Horseradish Toast and Pickled Walnuts
The
fillet was very tasty and horseradish gave a
nice boost to fillet. Roasty and hopped beer with some
grapefruit, pine flavor offered a
suitable partner.





2.serve


2. serve
BrewDog Punk IPA
Haggis Spring Roll, Apricots, Coriander, Tomato and Chili Jam
This was my second time eating haggis and this Spring Roll filled with haggis was kind of funny idea, but it worked really well. Lots of pepper. Sweetness of the apricot balanced that strong pepper of the haggis. Funny and at the same time tasty portion.





Pääruoan esittely
3.serve
3. serve
BrewDog Hello My Name Is Vladimir
Halibut, Crayfish Rice, Prosecco Avruga Butter Sauce
A mild-flavored fish and soft-flavored rice. Beer fairly strong with lots of berries and fruits. I tasted this Hello My Name Is Vladimir few days ago in Finland and did not reach to my favorite Double IPA's. But tasty combination.
After the third serve was dessert time and in front of us were brought glasses with the beer and ice cream. Beer was specially made for MUSA. It was BrewDog Riptide which was aged in Jura barrels for 529 days. In the glass there was Riptide Jura vanilla ice cream and a glass of 16 year old Jura whiskey.





4.serve

4. serve
Musa Jura Riptide Affogato
Chocolate, soft vanilla and sweet taste experience. In the past, I haven't tasted beer and ice cream together, but certainly will in the future. Dessert for beergeek!!!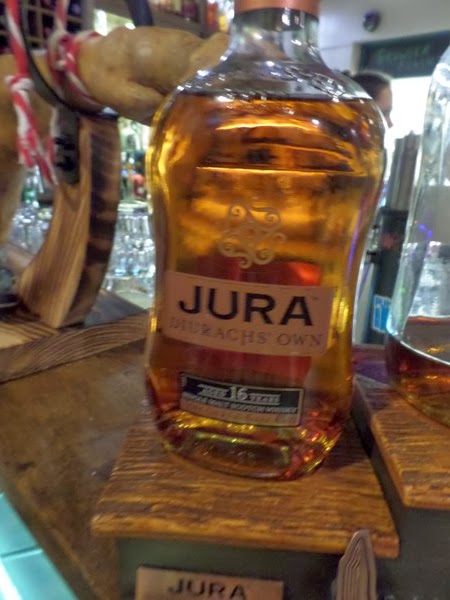 After
the dessert
James

and Martin

brought few bottles of

BrewDog

Dog

B to the table,
and

we were able

to

taste that beer after the dinner.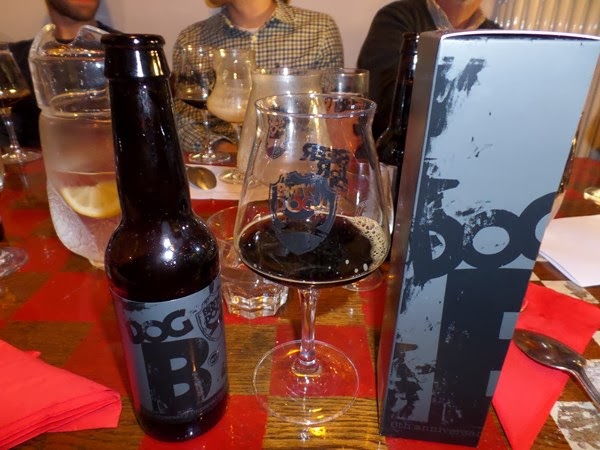 BrewDog Dog B
BrewDog Dog B
15.1 % Imperial Stout, spiced up with naga chillies. Pretty impressive beer, even though I have been tasting "few" beers that day. Hefty Imperial Stout, with liquorice, coffee, a hint of chili and vanilla. Could it be the brewery's best beer?



Dinner was over, and then we moved to a nearby beer place called CASC (cigars Ales Scotch Coffee). The place was opened a few months ago and the decor was stylish. A straight lines, and the gray color. The interior was to my liking. There were 24 beertaps and very wide range of whiskeys and beer bottles. The first beer that I took was so Epic…


CASC:n Draft beers
bottle selection…
…and little bit more!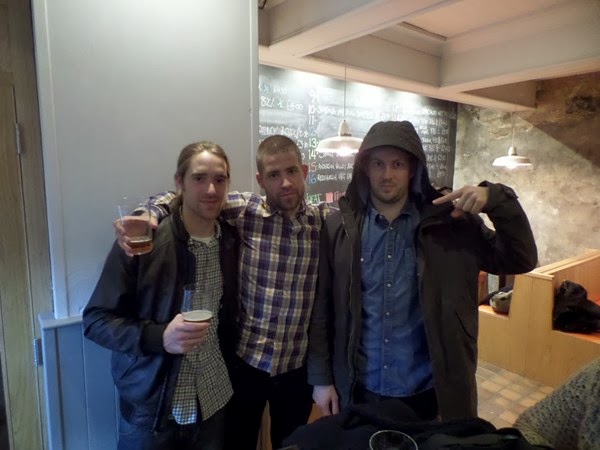 Three dogs!!! 🙂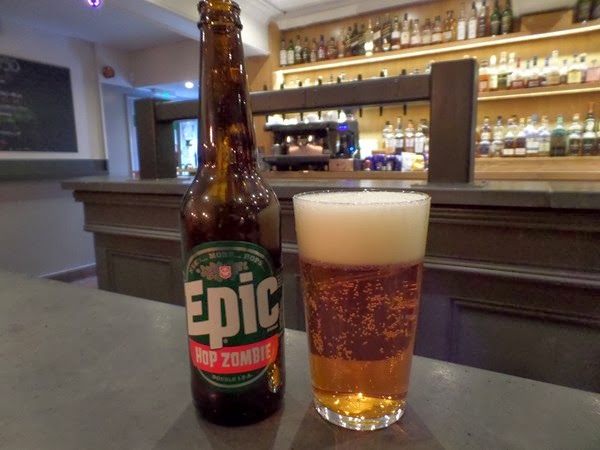 EPIC Hop Zombie
EPIC Hop Zombie
8,5 % staggering Double IPA from New Zealand.



After
that
we had little
whiskey tasting with

Martin and

Pierrick

.
Whiskey that we tasted was

Glen

Garioch.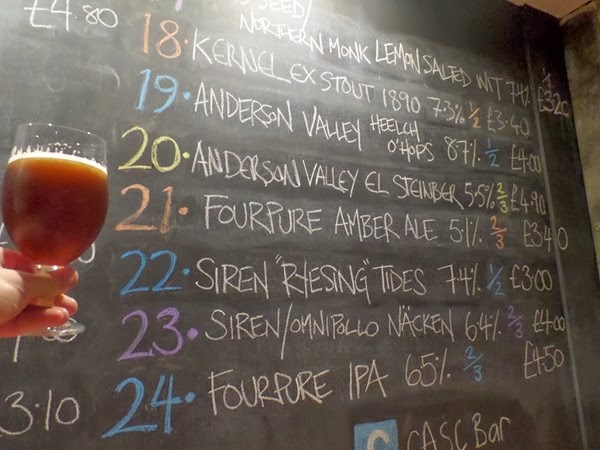 Four pure Amber Ale
Four pure Amber Ale
5,1 % Amber Ale. Nothing special Quite dry. There are lots of better Amber Ale's like Beer Here Dead Cat, Stone Levitation Ale and BrewDog 5 A.M. Saint.



Summer Wine Maelstrom


Summer Wine Maelstrom
9 % Double IPA. Grapefruit and tropical fruits. Very tasty DIPA.
From there, we moved with smaller group to have few cocktails. I was at the hotel at four in the morning and I had to wake up at six. So the journey home was pretty tired. And that was my travelogue to Scotland.
The trip was memorable in every way, and I had awesome time there. Thank you for the invitation. Thanks to James, Martin, Sarah, Zarah and Bowman for good company. Thank you also to the rest of the people from the brewery. Special thanks to other beerblog colleagues and beerauthors for awesome company. Thanks!







Check out my article about BrewDog!!!