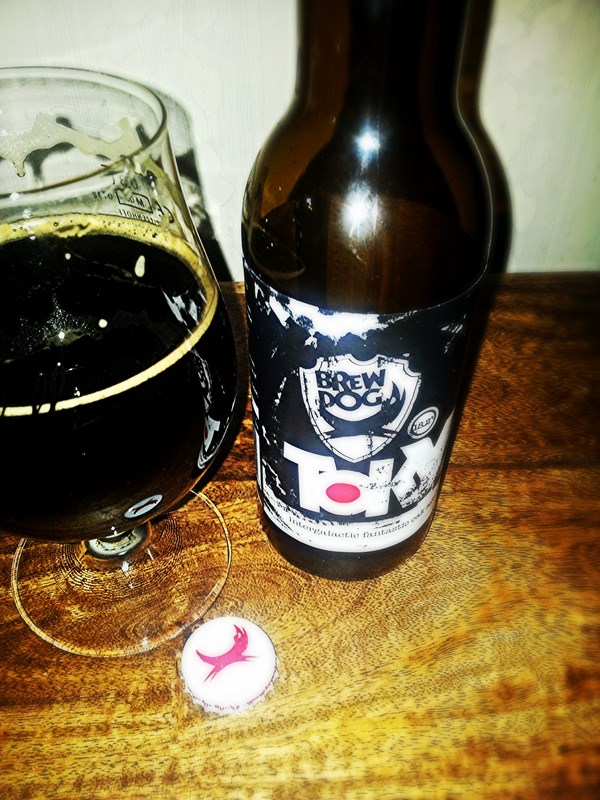 The beer revolution began in Scotland in 2007. First there were only two guys, a dog and a dream to brew a good craft beer. James Watt and Martin Dickie were bored to drink the industrially brewed lagers and stuffy ales that have been dominating UK markets for years. Therefore the idea to start their own brewery: BrewDog brewery. After taking out some loans and purchasing brewery equipment's, they started to make some hardcore craft beer, at first some tiny batches with the aim goal to generate a passion around craft beer. Hard work and passion for good craft beer allow them to become, after two years only, the largest independent brewery in Scotland.
Nowadays, BrewDog is known all over the world for its special beers that have revolutionized the whole beer industry. It has launched several special beers that broke the traditional genres and more are released all the time. As they say "We brew beer for Punks!"
One of the most important steps in the history of BrewDog brewery was their expansion to their new premises. It was a truly big milestone for BrewDog, moving from the far flung reaches of Fraserburgh to their new 7 million GBP eco-brewery in Ellon. The Brewery was funded by BrewDog's own fans. It was such a huge achievement that proved attitudes against beer had changed in UK.
Beer revolution
Some successful moments from the past years
"Too many to say! Equity for Punks has been a massive deal for us though, and is something we're crazy proud of. Having tens of thousands of craft beer loving investors in our midst is an awesome way to have grown our business, and we love being able to work with them on new brews."
Current beers in market:
#MashTag – 7,5 % American Brown Ale loaded with New Zealand hops like Nelson Sauvin, Motueka and Pacific Gem. Beer is aged on Hazelnuts and Oak chips.
32% Tactical Nuclear Penguin – This 32 % beer is double barrel aged for 14 months and then frozen for three times.
5am Saint – Amber Ale that contains hops like Nelson Sauvin and Amarillo. And there's also bucket full of dry hops like Simcoe, Cascade, Centennial, Ahtanum and Nelson Sauvin.
Alice Porter – 6,2 % Porter that is developed with Matt Gorecki (Owner of North Bar, Leeds) and named after Matt's fiancée.
Black Tokyo Horizon – This three way collaboration beer is a mixture of Nogne's Dark Horizon, Mikkeller's Black and BrewDog's Tokyo*.
Cocoa Psycho – Imperial Stout that contains cocoa nibs, crushed coffee beans and vanilla pods.
Dead Pony Club – Although this Californian Pale Ale holds up only 3,8 % it gives you mouth full of great hopjuice!!
Dog B – BrewDog's 6th anniversary beer. Imperial Stout that is packed full of specially selected Rio Caribe cocoa nibs, Sertao Carmo de Minas coffee and naga chillies. This is the same beer as Dog A.
Fake Lager – Tribute to beer style Bohemian Pilsner and great way to say F*** you to all bland and artificial bulk beers in the world.
Hardcore IPA – 150 IBU's says it all. This beer is packed full of hops and is ready to give satisfaction to us hopheads!!!
Hello My Name Is Mette Marit – Double IPA that has a twist of lingonberries in it!
Jack Hammer – BrewDog staff favourite beer has more bitterness than a human palate can detect.
Libertine Black Ale – Single hop (Simcoe) black ale that is combination of IPA and Stout.
Paradox Arran – Imperial Stout aged in the finest Arran whisky casks.
Punk IPA – Beer for Punks! Fully loaded with brewery's favourite hops.
Riptide – 8 % Imperial Stout brewed with dark muscavado sugar.
Trashy Blonde – Even though name is trashy, taste of this golden ale is still very classy. Mixture of Caramel malts and fruity hops!
Watt Dickie – 60 ml bottle of ice distilled 35 % beer! What? That's Right! This beer once was IPA, but freezing it makes this IPA go crazy. It transforms into high octane roller coaster of flavor…and so on!!
Additionally, there are many more available from BrewDog bars.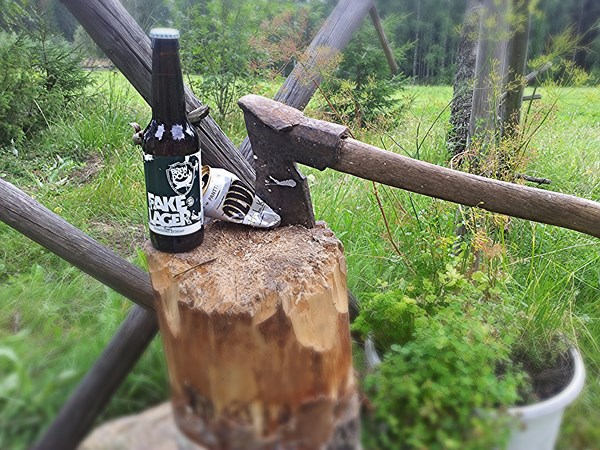 Stories behind some special beer designed by BrewDog
I wanted to know more about some stories behind these extraordinary beers that have been shaking the whole beer industry for years and here are some of them:
End Of History:
"From the very start, we have been dedicated to pushing the boundaries and challenging conceptions when it comes to craft beer. We never embark on creating a beer just for the sake of it, everything we do has a purpose to it, there is a method to the madness. We are always aiming to expand the possibilities of what can be achieved with beer, and chances are when there are set rules, BrewDog would most likely break them. I think we did this with End of History, which was a 55% beer we made (and presented in taxidermied squirrels and stoats) We got some stick for that, but End of History is not meant to be consumed in pint glasses, it's to be drunk like a fine whisky with an air of nonchalance."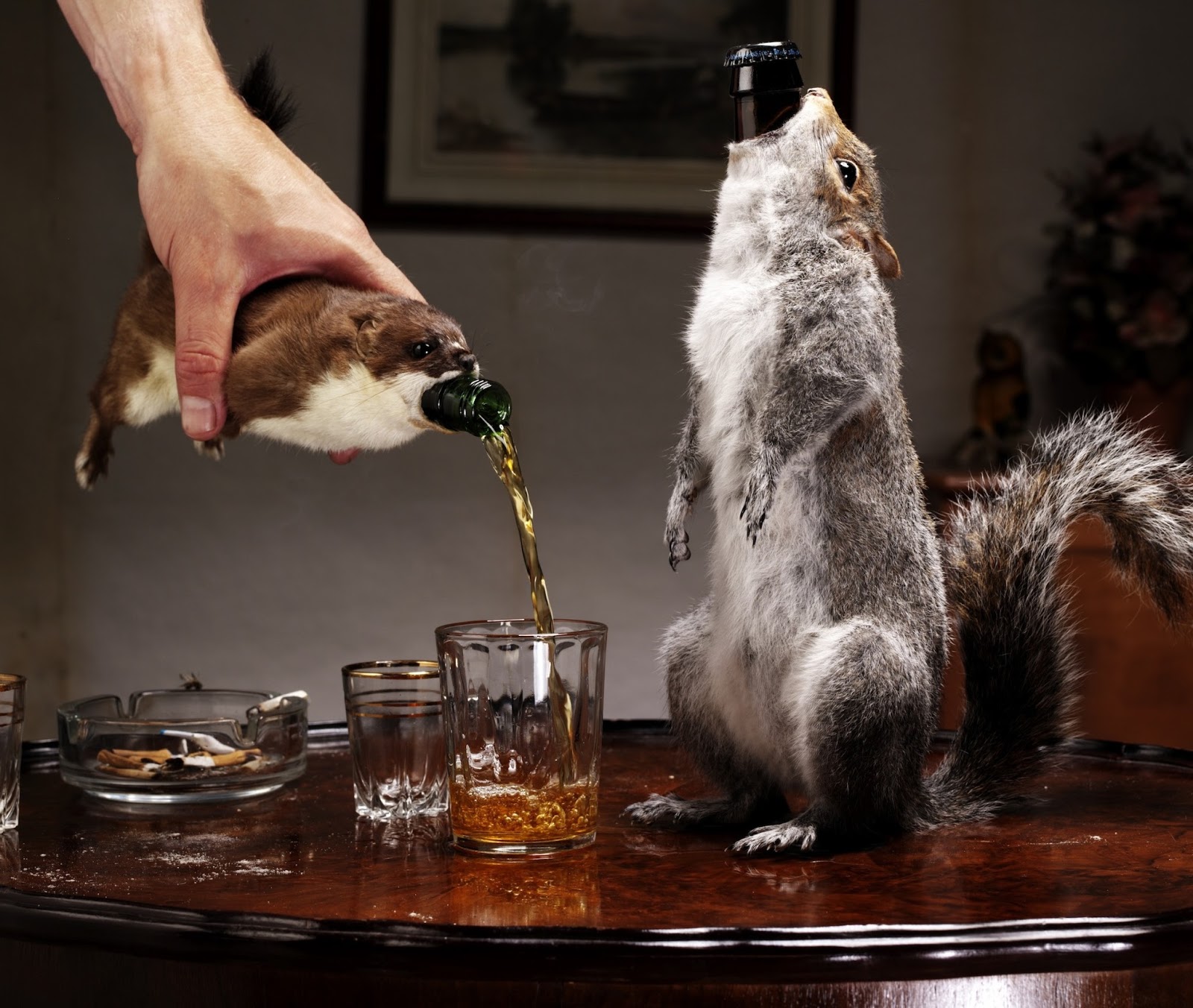 End Of History
Nanny State:
"Nanny State was also a bit of a curveball. We brewed this in response to the unwarranted backlash received from brewing Tokyo*, an 18% beer. Nanny State is a 0.5% ABV ale, a Mild Imperial. Nanny State wasn't just an afterthought or a side-project; it's a hell of beer in its own right."
Sunk Punk:
"Our next offering in the BrewDog story is Sunk Punk, and it encapsulates quite perfectly what BrewDog is about. It's a great IPA which we brewed at the bottom of the North Sea in a specially designed tank which flew the Jolly Roger. Insane? Probably. Awesome? Hell yes."
Sunk Punk
BrewDog's future plans:
They are opening more bars in the UK and internationally. They launched their latest "Equity for Punks" share offering in June and the response has been immense. BrewDog raised over 2 million £ of our 4 million £ target in just over a month, the funds raised will be put towards expanding the brewery, opening more BrewDog bars and BrewDog bottle shops in London.
Something about BrewDog Bars!
BrewDog wanted to create cool but inclusive hubs where anyone can just come and try great beer. Bar staff are incredibly friendly and knowledgeable. They want that anyone from the beer experts to the novice can come and find something they will enjoy. BrewDog currently have 11 bars in the UK and one in Stockholm, Sweden. BrewDog's goal is to take the craft beer revolution as far and wide as possible.
BrewDog Bar Edinburgh
I asked about their marketing strategy that is very different compared to any other brewery's in the world and here was their answer:
"We always wanted BrewDog to be an extension of our characters. We are sometimes irreverent and random, but totally passionate about good beer. We want to engage with people and give them a reason to believe in craft beer. But we're fully aware that if the beer isn't great the whole enterprise would come crashing down sooner or later."
There has been battle for the world's strongest beer going on for years and guys from BrewDog told me that The End Of History is their final foray into extremely strong beer battle.
The grounds of the BrewDog's success!!!
"We are doing something genuinely different. People are tired of the mass produced lagers and stuffy ales that previously dominated the beer market. Consumers are simply becoming increasingly aware of the options available to them, and once they taste those options, it's pretty hard to go back to the nasty stuff they had before. Plus the BrewDog team are insanely passionate about what they do, and take pride in creating great tasting and innovative beer."
And now BrewDog reveals something special that no one knows 🙂
"We have a 100-year-old stuffed African Penguin called Sture in our Stockholm bar."
Three words that describe the brewery
Awesome. Passionate. Daring.
And here's some greetings to Finnish BrewDog fans!
"Love Hops and Live The Dream"
——————————————
In few years, BrewDog has grown from a dream of two guys and a dog to a brewery that has over 60 employees and thousands fans all over the world. Their beers stand out from all the mass produced beer and these PUNK beers generate talks and opinions worlwide. BrewDog is fighting in the front line against the bland bulk beers and will bring the message of the beer revolution to every beer lover wherever he is on earth.

Written by Jaakko Matikainen, Finnish beerblogist
My beer blog: www.jaskankaljat.blogspot.fi
JaskanKaljat in Facebook
@JaskanKaljat in Twitter
Special thanks to BrewDog brewery for this interview!
Text material has either been interviewed or used with permission from the brewery. Photos are either self-taken or permission for then is asked from BrewDog.